CHAPTER I
11. Third Church of Christ, Scientist, 1923
Currently vacant
2915 North Sherman Boulevard (at Locust Street)
Architect: Frank Howend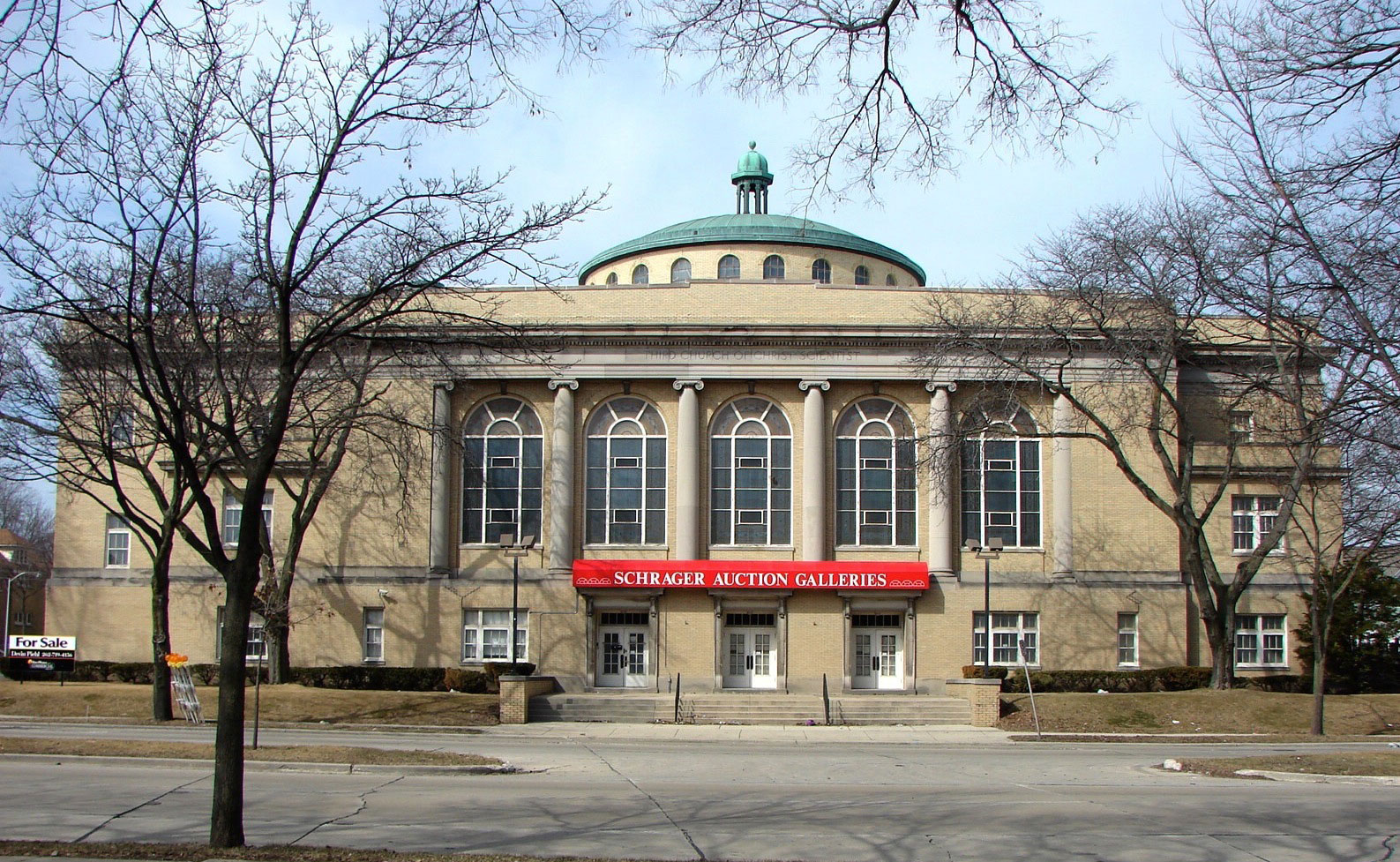 A decade after construction of the Second Christian Science Church on Highland Avenue, the growing denomination needed another church in Milwaukee. The third congregation acquired property facing Sherman Park, slightly more than two miles to the northwest of the Second Church, and built an even larger place of worship which was completed in 1924. Like the city's First and Second Christian Science churches, the Third Church is an imposing neoclassical edifice.
The church has a large auditorium on the second floor, 94 feet square, with a balcony above the second-floor lobby at the south end of the building. At the center of the auditorium is a skylight of stained glass, in the form of a shallow dome 48 feet in diameter. It is illuminated by daylight from the windows in the circular drum that rises from the center of the building.
Except for the inscriptions carved into the limestone cornice on the south and east facades, this large rectangular building would not be immediately recognizable as a church. As with other Christian Science churches, there are no crosses or other distinctly Christian symbols, and the stained glass consists of geometric patterns rather than depictions of biblical subjects. Unlike nearly every other pre-modern place of worship in Milwaukee, this building could be mistaken for a school or government building, and would fit in unobtrusively as an auditorium on a college campus.
The building housed the Third Christian Science Church for more than sixty years. In the mid-1980s, the congregation moved to a new church in the northwestern portion of the city, at Good Hope Road and 99th Street. Schrager Auction Galleries acquired the building from the Christian Science Church and used the large and elegant former worship space for its auctions for a quarter century. The last auction was held in 2010, and the building is currently vacant and for sale.
Sources:
Bauer, Alexander, architect. Drawings for alterations to the Third Church of Christ, Scientist, dated February 18, 1941. Wisconsin Architectural Archive, Milwaukee Central Library, drawing set 161-077.

Turner, Diane. "The Growth of Christian Science in Milwaukee." Unpublished typescript dated 1978, in the Church Papers of the Milwaukee County Historical Society Library.

Uebelherr, Jan. "Objects' Value Found in Meaning" (Al Schrager obituary), Milwaukee Journal-Sentinel, September 15, 2013, page 7B, column 1.