CHAPTER II
23. St. Adalbert's Catholic, 1930
1923 West Becher Street
Architect: Francis Gurda
St. Adalbert's Parish was founded in 1908 as a daughter of St. Hyacinth Parish. It was the city's tenth Polish-language Catholic parish, and the seventh on the South Side. The new parish immediately built a combined church and school building at 19th and Becher Streets, just five blocks west of St. Hyacinth Church. In addition to St. Hyacinth, there were two other Polish-language Catholic churches within one-half mile of St. Adalbert's at that time: St. Vincent de Paul to the north and Saints Cyril and Methodius to the southeast.
The worship space in the school building served for more than two decades, until completion of the present church in the spring of 1931. The cornerstone of the church was laid in May of 1930, just a few months after the stock market crash in October of the previous year. With the sudden onset of the Great Depression, plans for the church were modified to reduce construction costs. The bell tower is not as tall as originally planned, and a proposed tower on the left side of the façade was not built. (At more than 130 feet from the ground to the top of the cross, the tower is still quite tall for a Romanesque Revival church.)
While the church has corbeled arcades, deep entry portals, and other characteristics of the Romanesque Revival, it also has some unusual ornamentation using brick of a strongly contrasting color. This dark brown brick is used to form a series of horizontal bands at the front entrance and on the end walls of the transepts. It is also used to create diamond, chevron, and checkerboard patterns on the tower and elsewhere.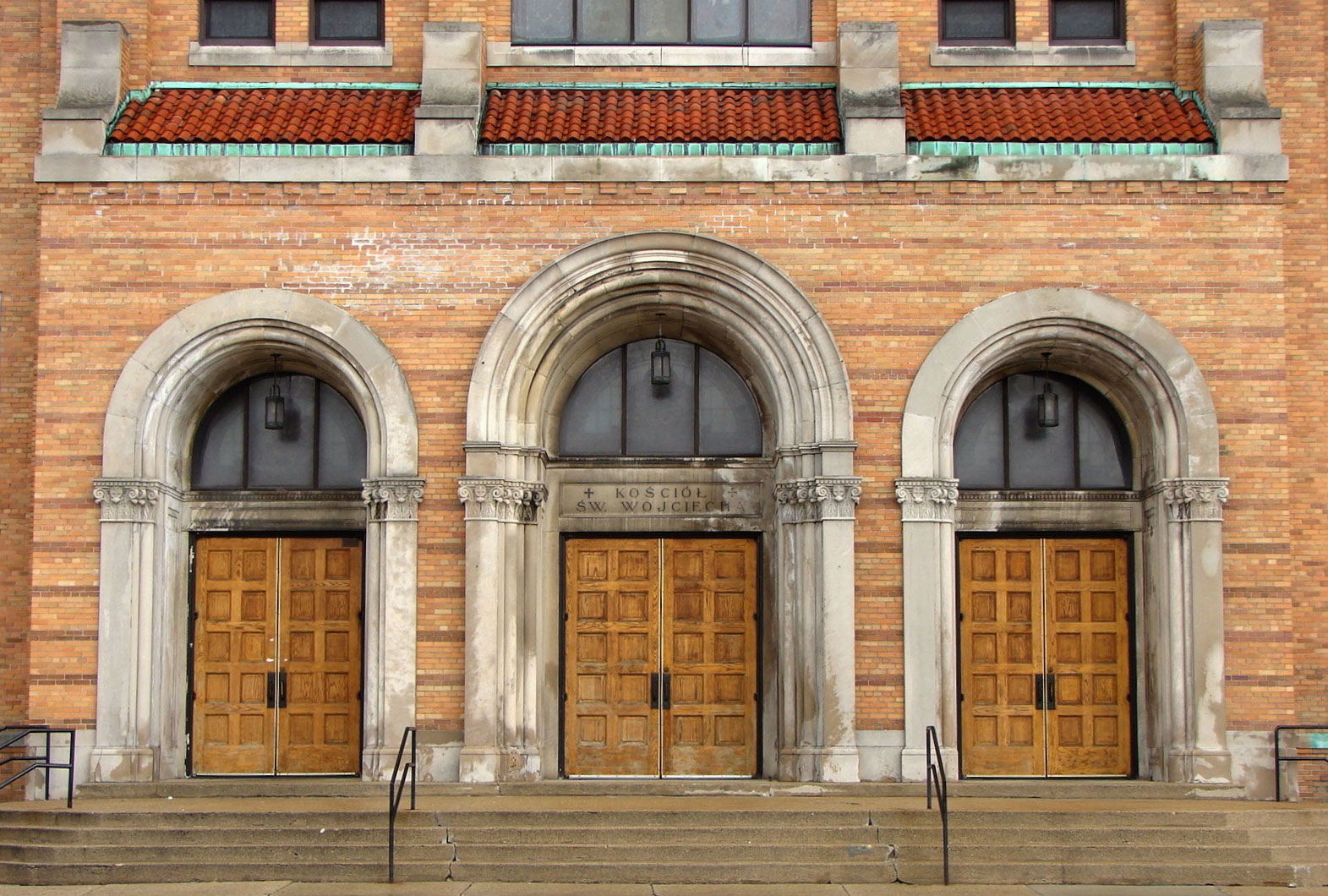 The clock at the top stage of the bell tower was installed in the early 1940s, and the last of the stained glass windows were also installed at that time. In the late 1950s, interior renovations were undertaken in celebration of the 50th anniversary of the parish. The demographics of the surrounding neighborhood have changed markedly since the founding of the parish more than 100 years ago. Polish is no longer spoken, but the church currently offers one Sunday Mass in English and three in Spanish.
Sources:
Borun, Thaddeus, ed. We, the Milwaukee Poles. 1946.

Garvey, Henry. Our Story of Fifty Years: Saint Adalbert, Milwaukee, 1908-1958. St. Adalbert's Church, 1959.

Mary Ellen Young Papers, Milwaukee County Historical Society Archives.