CHAPTER III
38. Grace Evangelical Lutheran, 1900
1209 North Broadway (at East Juneau Avenue)
Architect: Henry C. Koch and Company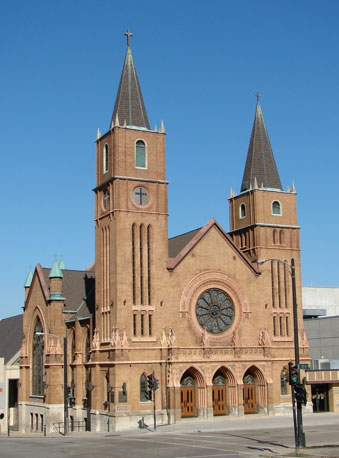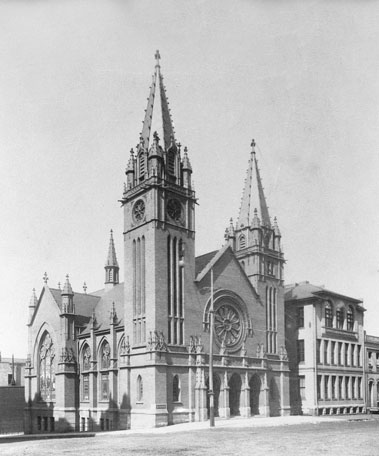 The original design of the two towers and steeples is shown in this historic photograph. (Image courtesy of the Milwaukee County Historical Society.)
Founded in 1849, Grace was Milwaukee's third Lutheran congregation, following the establishment of Trinity in 1847 and St. John's in 1848. Like Trinity, St. John's, and most of the city's other early Lutheran churches, Grace was organized by German immigrants. (The church produced a 75th anniversary brochure in German in 1924, indicating that the language was still in use at that time, although probably not exclusively.) The congregation acquired the property at Broadway and Juneau Avenue and erected a small brick church in 1851. The present church, dedicated in the summer of 1901, is the congregation's second house of worship.
Grace Lutheran is one of the city's earliest brick churches that is not the yellow Cream City brick so ubiquitous in nineteenth century Milwaukee. Although local production of Cream City brick continued into the first years of the twentieth century, many other colors of brick came into common use at this time. Grace Lutheran's pale orange-brown brick is from a manufacturer in Minnesota. The color is similar to the brick used for Milwaukee's City Hall, designed by the same architect and built just a few years earlier.
This church also exhibits what was probably the first use, and is certainly one of the finest uses, of ornamental terra cotta on a Milwaukee religious building. Terra cotta features include the entry portals, rose window surround, stringcourses, and ornamental pinnacles. All of these features are typically of carved stone on the city's other churches.
The tops of the two towers originally had different and more ornate designs, with large pinnacles at the corners and the eight-sided steeples studded with crockets. Alterations carried out in the mid-1950s included extension of the tower walls and recladding of the steeples. This work also included removal of the miniature rose windows in the taller tower, replaced by brick infill and a simple cross design of glass block.
Grace is one of just three Lutheran churches on the East Side, out of a total of 27 surviving church and synagogue buildings east of the Milwaukee River (22 of which are still used for religious purposes). This is an unusually low proportion of Lutheran churches compared to other areas of the city. There are more than 100 extant churches throughout Milwaukee that were originally constructed for Lutheran congregations. The small number of Lutheran churches on the East Side reflects the relatively low rate of settlement by German and Scandinavian immigrants in this part of the city, and the higher rate of settlement by people from the British Isles and the northeastern United States.
Sources:
"The Churches of Yankee Hill: a Sunday Afternoon Tour of Nine Historic Places of Worship" (pamphlet). Historic Milwaukee, Inc. 1996.

"Grace Church is Dedicated," Milwaukee Sentinel, August 5, 1901, page 5, column 7.

Grace Evangelical Lutheran Church, 1849-1949. Grace Lutheran Church, 1949.