CHAPTER V
67. St. Matthias Catholic, 1966
9306 West Beloit Road
Architects: Darby-Bogner Associates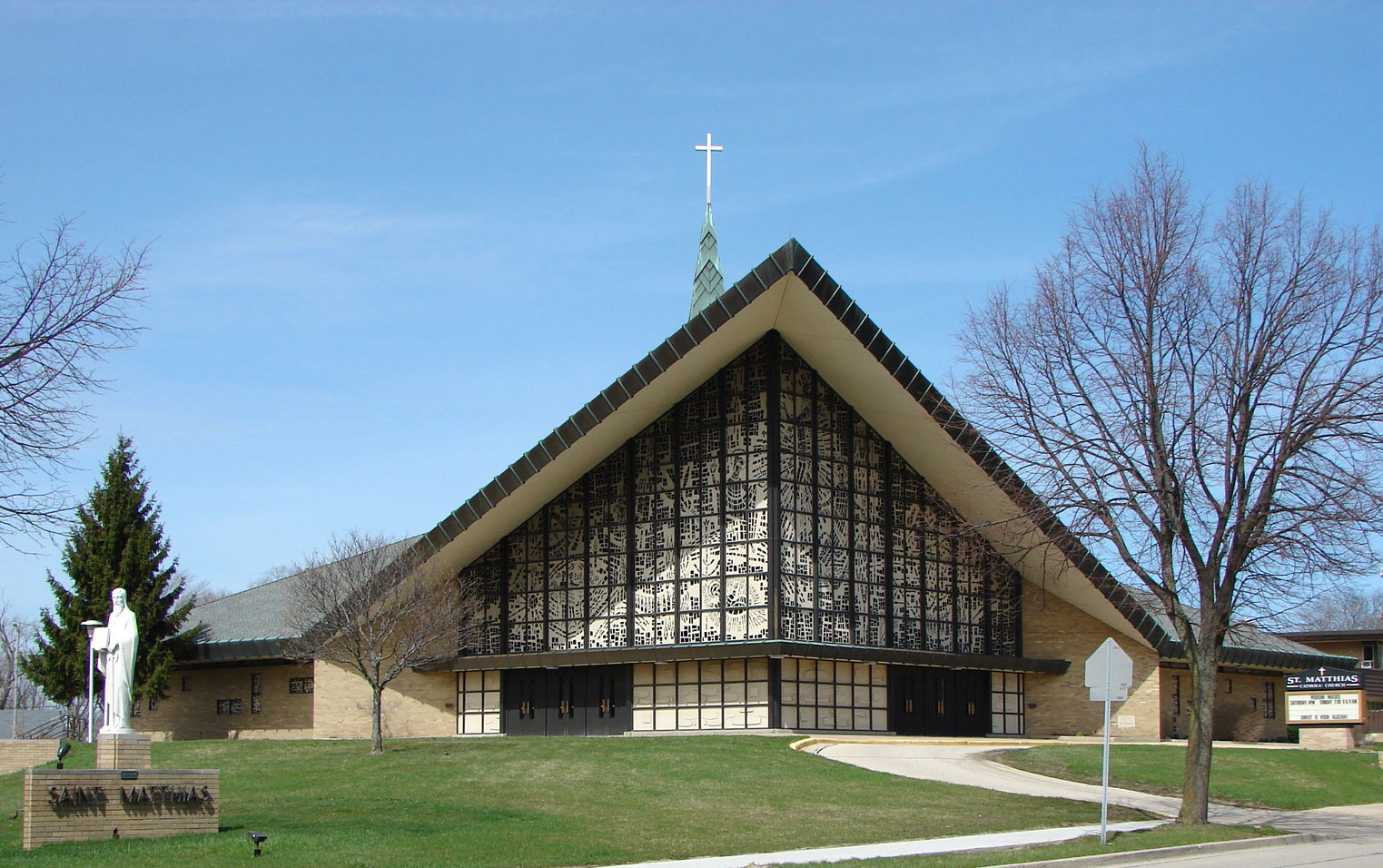 St. Matthias Catholic Parish was established in 1851 in what was then the rural settlement of Beloit Corners, more than four miles southwest of the Milwaukee city limits. (The property was annexed by the City of Milwaukee in 1954.) Most of the original members of the parish were German-speaking immigrants from Westphalia, a province within the Kingdom of Prussia. In 1883, the parish replaced its original church with a Gothic Revival church of brick. That church was in turn demolished in the mid-1960s to make way for the third and present church. Construction of this modern church began in the fall of 1965, with the cornerstone laid the following summer and dedication of the completed building in May of 1967.
The church is diamond-shaped in plan, with the main roof ridge extending from the north to south corners. The front gable therefore extends forward from the building's south corner like the prow of a ship. The architects may have been inspired in part by Frank Lloyd Wright's First Unitarian Church in Madison, completed in 1951, with which it bears some resemblance. Both churches have a large corner window beneath a soaring gable roof with a prominent overhang.
The building's most distinctive feature is the stained glass window that extends across the southeast and southwest facades. Each of the two walls of glass is 50 feet in width and a maximum of 35 feet in height at the corner. The individual pieces of colored glass are about one inch thick and are set in an epoxy compound. Unlike traditional stained glass windows, where the glass pieces are joined by narrow lead strips, this modern technique results in a window with a much higher proportion of opaque area. Conrad Schmitt Studios, a Milwaukee-area firm, designed and fabricated the main window and the building's smaller windows. The firm had used this technique a few years earlier to replace the original stained glass windows at St. Stanislaus Catholic Church. The front window at St. Matthias may have been the largest stained glass installation of this type in the world at the time of its completion.
Sources:
Abing, Kevin. "150 Years at St. Matthias Parish: Ever Grateful, Ever Growing." St. Matthias Parish, 2001.

Fish, Margaret. "The Art and Craft of Stained Glass," Wisconsin Architect, November 1966, pages 18-20.

Saint Matthias, 1851-1976: A Parish History. St. Matthias Church, 1976.