CHAPTER III
49. Gospel Lutheran, 1938
1535 West Capitol Drive
Architect: Hugo Haeuser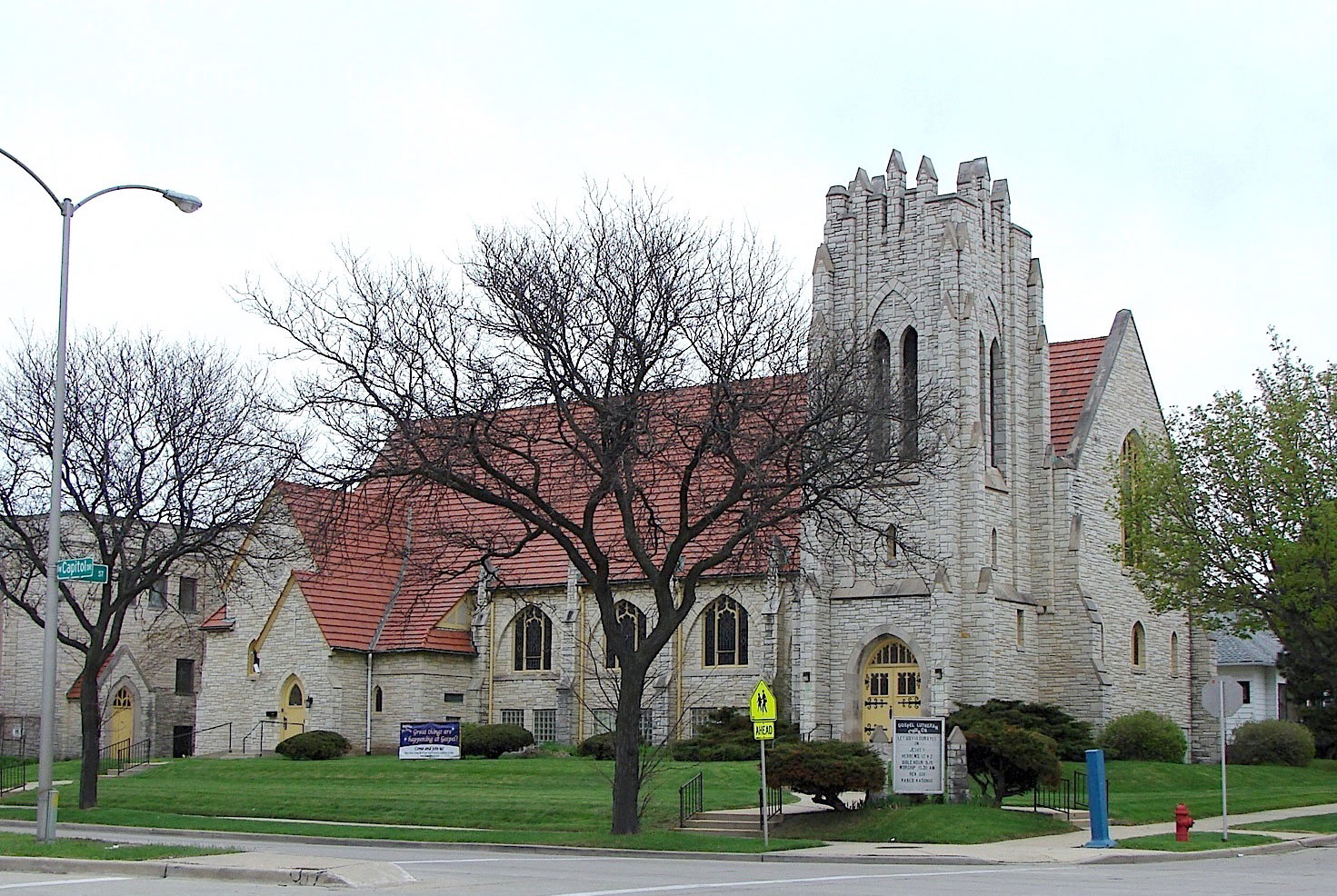 Gospel Lutheran congregation was organized in 1918, during a period when the city's northern neighborhoods were rapidly expanding. The congregation initially built what was intended to be a temporary place of worship at 14th and Nash Streets, a few blocks from the present church. That first church served for an unexpected two decades. Construction of the present church at 16th and Capitol began in 1938 and was completed in September of 1939. At the time of the building's completion, services were conducted in both English and German, with German services continuing to the mid-1940s.
Like the Latter Day Saints church built a few years earlier, Gospel Lutheran exhibits the trend, begun in the late 1920s, toward walls of stone rather than brick for Gothic Revival churches. Of the extant Gothic Revival churches in Milwaukee built before 1928, more than two-thirds are of brick. (The others are stone or wood in equal numbers, with one of concrete block.) However, from 1928 to the last examples of the style in 1958, almost two-thirds have walls of stone. In some cases, these are load-bearing walls supporting the roof, while in others the stone is a veneer and the roof is supported by steel columns or laminated wood structural members.
Milwaukee architect Hugo Haeuser (1882-1951) designed the church. Haeuser received his architectural training in two of the city's most prominent firms, working initially in the office of Ferry and Clas and later in the office of A.C. Eschweiler. He established his own firm in 1918, and for more than 30 years specialized in the design of churches. During that period, he received more than 100 commissions for new church buildings, additions and alterations to older churches, and related commissions such as parochial schools and parsonages. While almost half of this work was for Lutheran congregations, he also did a substantial amount of work for several other Protestant denominations. The majority of his buildings are in Wisconsin, including at least nine churches in Milwaukee and several more in nearby suburban communities. He also designed churches in 11 other states, with his most distant commissions being in Texas and Wyoming. Haeuser favored the Gothic Revival style, but did some Colonial Revival churches and a few churches of modern design after World War II. He often designed all of the interior furnishings for his churches, including altars, pulpits, and pews as well as the stained glass designs for the windows. Gospel Lutheran is an excellent example of Haeuser's picturesque Gothic Revival work, with its stone facing laid in irregular courses and castellated bell tower with no steeple. It also shows Haeuser's attention to detail and craftsmanship.
Sources:
"H. C. Haeuser is Dead Here," Milwaukee Journal, October 19, 1951, page 22, column 1.

Haeuser, Hugo C. Biographical file, Wisconsin Architectural Archive, Milwaukee Central Library.

Mary Ellen Young Papers, Milwaukee County Historical Society Archive.

"Portable Chapel to This – 20 Years," Milwaukee Sentinel, September 16, 1939, page 4, column 3.