CHAPTER III
47. Tippecanoe Presbyterian, 1928
121 West Saveland Avenue (between Chase Avenue and 1st Street)
Architect: Hugo Haeuser (1928 conversion to a church)
Tippecanoe Presbyterian Church incorporates elements from two earlier buildings. A barn at the location of the present church was demolished in the early 1890s and replaced by the Tippecanoe Amusement Hall. The new building incorporated the barn's rubble stone foundation, which was retained when the hall was converted to a church in 1928 and is still visible. The amusement hall served a variety of public functions, including graduation ceremonies for the nearby school, music recitals, and dances. At that time, the area was a largely rural portion of the Town of Lake, south of the Milwaukee city limits. Landowner John Saveland, for whom Saveland Avenue and the nearby Saveland Park are named, built the amusement hall and gave the name Tippecanoe to both the building and his property, which was eventually developed into a residential neighborhood. (Tippecanoe was the nickname of William Henry Harrison, elected in 1840 as the ninth president of the United States.) Annexed by the City of Milwaukee in 1932, this South Side neighborhood is still known as Tippecanoe.
Grace Presbyterian Church in Milwaukee's Bay View neighborhood established Tippecanoe Presbyterian as a daughter church in 1917, and acquired the amusement hall for religious services and a Sunday school. As originally built in the 1890s, the hall looked nothing like a place of worship. It had a hip roof with a small polygonal dormer on the front, eyebrow dormers on the long sides, and a wood veranda that wrapped around all four sides of the building. The church used the hall for more than ten years in the form in which it was acquired, before undertaking a substantial remodeling in 1928.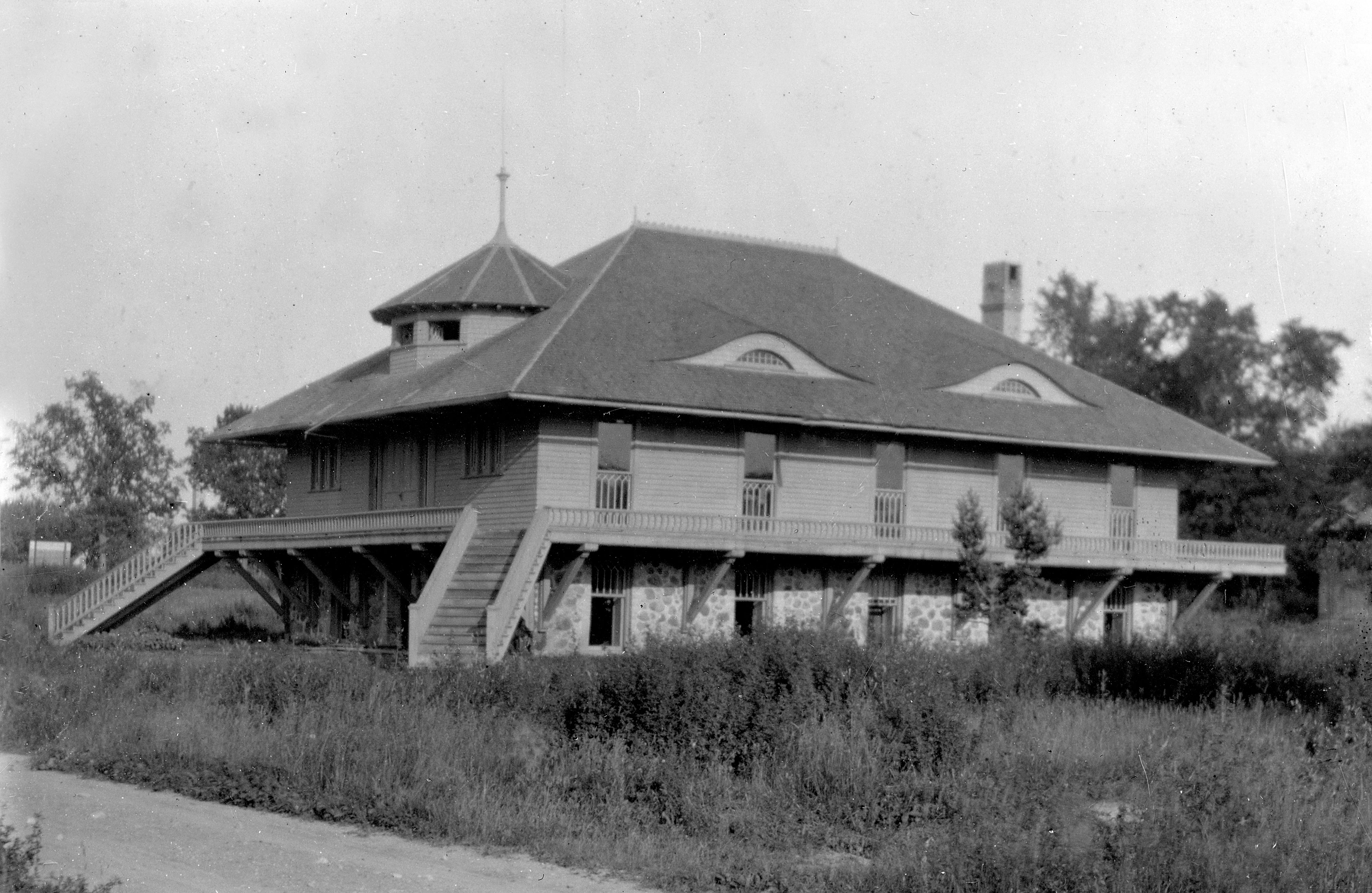 Tippecanoe Amusement Hall as built in the early 1890s.
(Image courtesy of the Milwaukee County Historical Society.)
Tippecanoe Presbyterian commissioned the architect Hugo Haeuser to draw up plans for the remodeling. Haeuser transformed the building into a charming little Gothic Revival church, showing his affinity for a picturesque interpretation of the style that he subsequently used for many other churches. The remodeling included removal of the veranda, conversion of the hip roof to a gable roof, the addition of stucco and simulated half-timbering in the front gable, and new windows. The bell tower and covered entrance were also added as part of the remodeling project. The upper portion of the tower, with its castellated crown, is quite similar to the stone tower that Haeuser designed ten years later for Gospel Lutheran Church, on Capitol Drive at 16th Street. The tracery in the façade window of Tippecanoe Presbyterian also closely matches that of the windows at Gospel Lutheran.
Sources:
Dedication Services of the Tippecanoe Presbyterian Church. Tippecanoe Presbyterian Church, 1929.

Peterson, Lawrence E., Jr., consulting engineer. Drawings for addition to Tippecanoe Presbyterian Church, dated 1957. Wisconsin Architectural Archive, Milwaukee Central Library, drawing set 236-166.

Tippecanoe United Presbyterian Church: 50th Anniversary. Tippecanoe Presbyterian Church, c. 1971.