CHAPTER V
68. St. Mark African Methodist Episcopal, 1968
1616 West Atkinson Avenue
Architect: Harry Ollrogge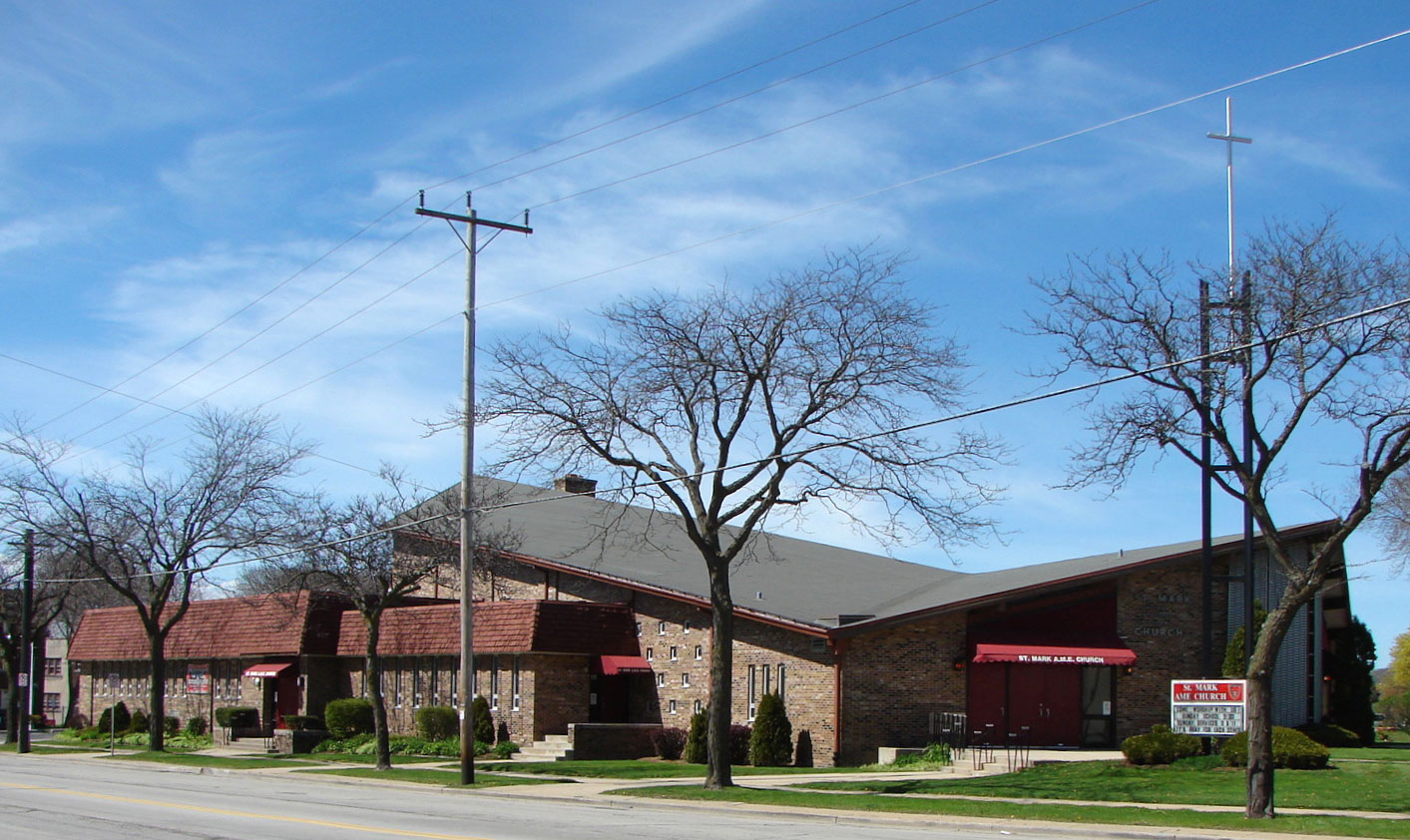 The African Methodist Episcopal (AME) Church in the United States was formally organized in 1816, but traces its origin to the late 1700s. The denomination's founder, Richard Allen, was born into slavery in Delaware but was able to purchase his own freedom in 1780. Allen later became a Methodist minister. Dissatisfied with the segregation of black members within the Methodist churches of the time, Allen established Bethel AME Church in Philadelphia in 1794. Bethel AME was initially affiliated with the larger Methodist Episcopal Church, but as other black congregations formed across the Northeastern states, they organized the separate AME denomination in 1816, with Allen as their first bishop. Bethel's first church building was a converted blacksmith's shop, which led the denomination to adopt the anvil as its symbol.
Ezekiel Gillespie played an instrumental role in organizing Milwaukee's First AME Church in 1869, later renamed St. Mark AME. At that time, there were fewer than 200 black residents of Milwaukee, and no other black religious congregations in Wisconsin. A former slave born in Tennessee, Gillespie purchased his own freedom and moved to Milwaukee prior to the Civil War. He was active in the antislavery and civil rights issues of the day, including the Underground Railroad. His 1866 lawsuit against the Milwaukee Election Commission led to a Wisconsin Supreme Court ruling that established the right to vote for black residents.
The Milwaukee congregation founded by Gillespie initially acquired an existing church at Fourth Street and Kilbourn Avenue, and moved to two subsequent locations prior to the dedication of its present church on Atkinson Avenue in March of 1969. None of the congregation's earlier churches are extant, but there is a historical marker at the site of the first church at Fourth and Kilbourn, placed by the Wisconsin Historical Society. Now approaching 50 years in age, the current St. Mark AME Church has been the congregation's longest home since its founding.
The building's architect, Harry Ollrogge (1907-1996), was one of several architects in Milwaukee who specialized in the design of churches. Ollrogge apprenticed with several Milwaukee firms in the 1920s and 1930s before establishing his own office. From the late 1940s until his retirement in the 1970s, he designed 16 Protestant churches in Milwaukee, eight more in nearby suburban communities, and three in Racine County. Most of these are modest in size and modern in style, although a few are in the Gothic Revival and Colonial Revival styles. Like the other specialists in religious architecture, Ollrogge received numerous commissions for alterations and additions to older churches as well as parochial schools, parsonages, and other buildings for church clients.
Ollrogge's design for St. Mark's includes a freestanding metal tower, 35 feet in height, topped by a silver cross. A presentation drawing by the architect (in the Wisconsin Architectural Archive) shows this tower supporting bells, but the construction drawings show the tower as built, without bells. The building's distinctive butterfly roof was said at the time of construction to evoke the shape of an anvil. The stained glass windows also depict anvils, and there is an anvil at the base of the tower, along with a memorial to Ezekiel Gillespie.
Sources:
"'Anvil' Church Ready," Milwaukee Sentinel, March 15, 1969, part 3, page 6, column 6.

David, John I., ed. Comprehensive Historical Review of St. Mark African Methodist Episcopal Church, 1868-1989. St. Mark African Methodist Episcopal Church, 1989.

Jones, Rev. Henry. St. Mark's African Methodist Episcopal Church, Milwaukee, Wisconsin. St. Mark African Methodist Episcopal Church, 1907.

Ollrogge, Harry. Biographical file, Wisconsin Architectural Archive, Milwaukee Central Library.

Ollrogge, Harry, architect. Drawings for construction of St. Mark African Methodist Episcopal Church, dated April 1967. Wisconsin Architectural Archive, Milwaukee Central Library, drawing set 193-91.